ANNIKA LOOKING TO MAKE HISTORY AT PNC FATHER SON CHALLENGE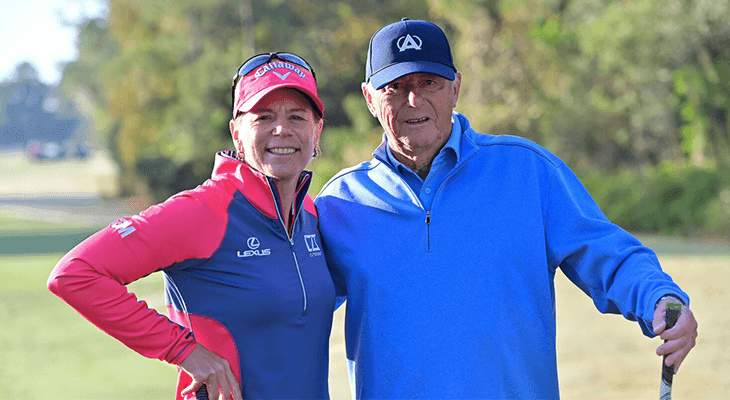 ORLANDO, FLORIDA, Dec. 5, 2019 – Sweden's Annika Sorenstam is set to become the first female professional to compete in the PNC Father Son Challenge at The Ritz-Carlton Golf Club Orlando, Grande Lakes, which gets underway this Saturday 7 December.
In a field consisting of as many as 20 major champions, 12 Hall of Famers and 15 Ryder Cup players including Jack Nicklaus, Gary Player and Tom Watson, the former Solheim Cup captain and 10-time major champion will be joined by her father at 9.48 a.m.as she bids to become the first female to win the historic Willie Park Trophy.
Testing the course for the first time today in the Pro-Am, Annika, who is also the only female professional to shoot a 59, was quick to confirm a few of the reasons behind her decision to break new ground this week.
"First of all, I love the concept. We've always been into golf and family, and when we were approached, I couldn't think of a better thing than to play with my Dad. He introduced us to the sport and we have lots of memories together. If it wasn't for the sport, I wouldn't be here."
She continued, "We've watched it on TV, but we've never actually been down here. I've been aware of it for a while, though, and it has been great to see PNC step it over the last few years, I played with them this morning, they are a great group of people and it is nice that they see the value of family and golf together."
Her partner, Tom Sorenstam, who found out he had been called up to play upon receiving Annika's playing schedule earlier this year, admitted to feeling the dreaded 'first tee nerves' but was quick to recognize the role of the rest of his family with Annika's sister also playing a pivotal part in his pre-event preparations.
"Annika's sister is caddying for me this week and she's also been giving me lessons the last two weeks. I have been to the range every day."
Annika added, "He normally doesn't wear a glove, now his hands are so worn out he has to wear two."
Joining them at 9.48am on Saturday is Team Furyk, who return for the second consecutive year after a debut that saw them finish T9 last year.
"My dad got me started in the game, so I feel like he has been there every step of the way. When I'm on the course, I feel like he's there with me, as my teacher. I hear his voice during my swings and all throughout the mental part of the game. So, to be out here with him and share a couple days on the golf course is great. My mom's here for the pro-am fun and dinners is just a big deal."
Furyk, who has enjoyed a resurgence of form in 2019 which saw him break back in to the world's top 50 and secure a 2nd place finish at The PLAYERS Championship, is not the only member of his family to find his game recently.
"My son had quit for about five years, but picked it back up in the spring. He's about ready to where he could come out here and do it with me. He'll be 16 next month, so hopefully in the future, he and I will get a chance to play together in the event. "