DALY DOES IT AT PNC FATHER/SON CHALLENGE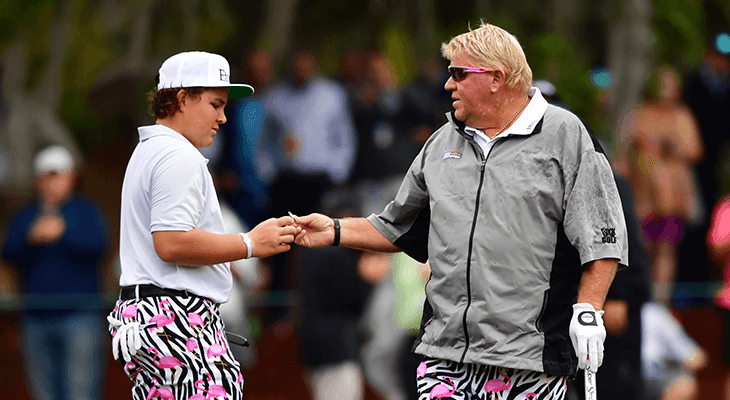 ORLANDO, FLORIDA – Saturday, December 15, 2018 – The original big-hitting American, John Daly, teamed up with son, Little John Daly, to tie the tournament course record with a flawless round of 59 (-13), taking the halfway lead at the 2018 PNC Father/Son Challenge.
Playing in their third PNC Father/Son Challenge, Team Daly, who wore their customary matching attire, made the turn in 31 strokes before adding gains at Nos. 10 and 11. A solitary back-nine par on the 12thhalted their progress temporarily before six successive gains from the 13th saw them break the magic 60 mark, tying the championship course record held by Team Cabrera (2017) and Team Singh (2015).
Talking about the day, John Daly commented, "It was just one of those days. We hit pretty much every fairway. We didn't get ourselves in any trouble. After the third hole, Little John was putting good and he said I should go first to give him the line. I just made everything. It was a lot of fun".
Now 15 years old, Little John is already beginning to fill his Father's shoes, ramping up his driving distance by as much as 25 yards compared to last year. Complimenting his son's game, John added, "his game is way ahead of mine, if I hit a bad shot, I'm not worried about him hitting a good one."
Rolling back the years, only two shots adrift at 11 under par in T3 after an opening 61 (-11) is Team Nicklaus, who fired his lowest-ever round at Orlando Golf Club and second lowest in 16 previous appearances. Only once before has he gone lower, in 1999 with son, Gary, where they captured the title.
Speaking about the day, Jack, was flattering about his Grandson's performance, "GT drove the ball beautifully, his iron game was good, we both putted well, that's the combination you've got to do".
At 78 years old, Nicklaus hasn't been within five shots of the lead in each of the last five years but proved his worth on the greens, making four 10-15 foot putts. He even contributed to their eagle on the third hole noting, "On the third hole we actually used my drive, I was three yards past GT. You see, they've got me up far enough that we have an opportunity to use my ball. He knocked it on the green to about 18ft and knocked the putt in. I didn't even have to putt."
The eagle was one of only two on a rain affected day at the Ritz Carlton Golf Club.
Asked where a victory tomorrow would rank amongst his 18 Major victories and GT's hole-in-one at The Masters, he commented, "I think you'll have a hard time beating that hole in one but to win this thing again, at my age, with my Grandson, we are going to have a few coins to toss."
Sandwiched between the pair at 12 under par in solo second, following an opening round of 60 on their debut, David and Carter Toms, started their round conservatively with two pars, before making six straight birdies to climb the leaderboard. A flawless back nine 30, including a birdie on the 18th, ensured they made the final group at 10:38AM paired with Team Daly.
Sharing their thoughts on their first experience at the PNC Father/Son Challenge, David Toms, said, "Well, I see what the fuss is all about. It's a great event. I've been trying to get in it for years and I was fortunate to get the invite this year. I hope to continue coming back for a long time."
Tied with Team Nicklaus in T3, having also shot a flawless round of 61 is past champions (2013), Stewart and Connor Cink, who are making their fourth appearance together. The duo closed with an eagle on the 18th to sneak in to the second to last group at 10:26.
Talking about the day, Stewart commented, "We had a great time out there. This event is a real family affair. We've got Lisa my wife caddying and his younger brother Raegan, so it was a really special round."
Son/Father partnerships, Team Furyk and Team Kuchar, both debutants in the event, shot rounds of 64 (T10) and 65 (T13) respectively.