FIRST WAVE OF CHAMPIONS CONFIRMED FOR 2022 PNC CHAMPIONSHIP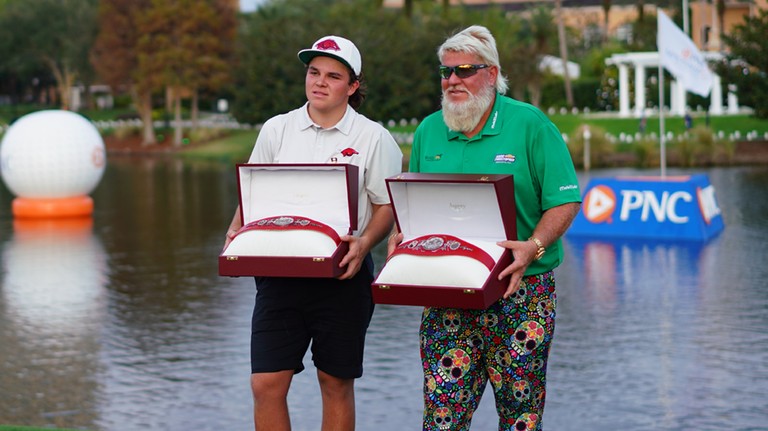 The first wave of major champions has committed to the 2022 PNC Championship at the Ritz-Carlton Golf Club Orlando, Grande Lakes, Dec.15-18.
John Daly and his son John Daly II, who triumphed last year on their 6th attempt will be back to defend their title while 2020 Champion Bernhard Langer, a three-time winner alongside his son Jason, will return after missing last year's edition through injury.
Making his PNC Championship debut is former world number one and three-time Major Champion, Jordan Spieth, who will be playing with his 60-year-old father Shawn.
Spieth commented, "My dad and I are really excited to play in the PNC Championship for the first time. We have been wanting to be a part of it for some time, and this year the schedules aligned. I'm sure leading up to it we will have quite the back and forth, but even though we are taking it seriously it's really going to be a lot of fun to have him out there."
Annika Sorenstam and Justin Leonard, both of whom have previously competed with their fathers in the PNC Championship, will arrive at this year's tournament with youth on their side as Annika plays with her 11-year-old son Will and Justin alongside his 16-year-old son Luke.
Three-time Major winner Nick Price will play with son Greg for the eighth time while the remarkable Lee Trevino, 82, the only player to have competed in every single PNC Championship, will keep his run going alongside his son, Daniel.
This is the eleventh year PNC Bank has been the tournament's title sponsor. The event was renamed the PNC Championship in 2020, reflecting the world class talent at this inclusive family tournament that showcases the special bonds that the love of golf creates.
"The PNC Championship is truly where family moments happen," said Lou Cestello, head of regional markets and regional president of Pittsburgh and Southwestern Pennsylvania.
"The winning combination of championship golf and celebration of families, as seen in the initial competitive field we welcome today and in the weeks ahead, speaks for itself. It is the reason PNC continues to be the title sponsor of this one-of-a-kind tournament."
The 2022 Championship will once again have a very limited number of tickets available which will go on sale on November 4.
"This is a very special family event, and we are committed to preserving the unique intimate atmosphere of the PNC Championship that sees the players campaigning to come back year after year," said Teo Sodeman, PNC Championship Tournament Director. "With only 20 teams in the line-up, we will continue to restrict the number of tickets sold daily and encourage anyone wishing to attend to purchase early."
The tournament, which will be broadcast live across NBC, GOLF Channel and Peacock, attracts major champions whose victories this year span 1959 to 2021. Last year, the PNC Championship included a field that had won a remarkable 67 Major titles. With only 20 teams competing, players past and present have shown unprecedented interest in campaigning for a spot in the star-studded line-up.
"The family-focused nature of the PNC Championship makes this such a celebrated golf event each year on our platforms," said Jon Miller, NBC Sports. "We are proud of our heritage as a co-founder of this great tournament and are excited to see these world-class players compete alongside their loved ones this December."
The PNC Championship has continued to evolve and develop since the inaugural tournament in 1995, when ten major winners gathered with their sons. The tournament now features 20 major champions and their relatives competing for the total purse of $1,085,000 in a two-day, 36-hole scramble for the Willie Park Trophy.
To qualify for the PNC Championship, players must have won a major championship or The Players Championship. Their partner must not hold a PGA or LPGA TOUR card.
The PNC Championship is operated in partnership by IMG and NBC Sports.
For more information and to purchase tickets, please visit pncchampionship.com.
Follow us:
Twitter: @PNCChampionship
Instagram: @PNCChampionship
Facebook: https://www.facebook.com/pncchampionship