GOLF ICONS NICKLAUS, PLAYER AND WATSON REVIVE RIVALRY AT PNC FATHER SON CHALLENGE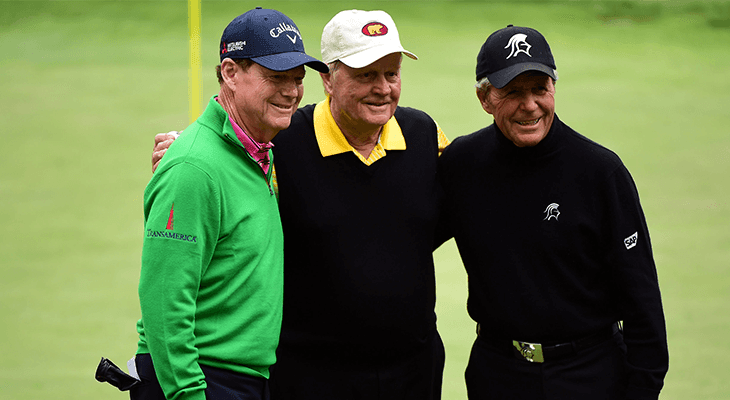 ORLANDO, FLORIDA, Oct. 22, 2019 – Eighteen-time major champion Jack Nicklaus returns to The Ritz-Carlton Golf Club Orlando, Grande Lakes, alongside fellow 'grand slam' winner Gary Player and five-time Open Champion Tom Watson at the 22nd edition of the PNC Father Son Challenge from Dec. 5 – 8.
Nicklaus, a 17-time veteran of the event, is known to rotate partners amongst his sons Gary and Jack, and more recently his grandson GT but is yet to confirm which family member will have the honor of competing for the total purse of $1,085,000.
Multiple major winners Gary Player and Tom Watson join the field with Nicklaus for the first time since 2002 as the pair will make their fifth and fourth tournament appearances respectively.
Player, who is known for his off-course fitness activities as well as his nine major championship victories, partners his grandson, James Throssell, whilst Watson will be paired with his son, Michael.
Three of the greatest names in the world of golf, Nicklaus, Player and Watson are the first of 20 players set to compete in the tournament, which has seen as many as 25 World Golf Hall of Fame Members participate over the 21-year history.
The winning team of the two-day, 36-hole scramble will also receive the Willie Park Trophy, in memory of the father and son British Open champions Willie Park Sr. and Willie Park Jr.
Speaking about his return, Jack said, "The last two years I have had a blast partnering with my grandson GT. We managed to get ourselves in contention a year ago, and it was fun to get the competitive juices flowing again. Some days the golf ball forgets how old you are, and that's what I love about this doubles format. It allows me and others to pair up with a son or grandchild, and be competitive. Keeps me in the game, so to speak.
"My week with GT simply added to the memories made in this event over the decades with sons Jack II and Gary. As a family, we have yet to decide who will play this year, but I promise no matter my partner, we will have a great time, because the PNC Father Son has always been one of our favorite events. It's a few days to celebrate family and to reconnect with old friends. That's why it's nice to see Tom and Gary back in the field."
Gary Player said, "I've missed playing in the PNC Father Son Challenge and my decision to return was more than just about the golf. I have made a lot of friends in this game over the years and the chance to compete against some of the best players in history is something I had to do again. Playing with my grandson is always a pleasure and that's what makes this event so special."
Tom Watson said, "The PNC Father Son Challenge is a special opportunity to see long-time friends, compete and spend some time with my son Michael. I look forward to the event."
Alastair Johnston, vice chairman of golf, IMG, added, "It is not every day that three of the best golfers to ever play the game tee it up together for two days of competition. We are delighted to welcome back Gary and Tom, who return to the event after a few years out. The PNC Father Son Challenge was created more than two decades ago to give golf's icons the opportunity to share their success with their family in a fun and exciting format and give spectators the chance to watch as many as 20 major champions compete for the historic Willie Park Trophy."
Jon Miller, president of programming, NBC Sports Group, said, "Having Nicklaus, Player and Watson all together at the PNC Father Son Challenge for the first time in 17 years will be a thrill not only for them and their families, but also for fans and viewers alike. NBC Sports is honored to once again showcase the PNC Father Son Challenge, which will be a true celebration of the game of golf."
"The PNC Father Son Challenge is one of the most unique and interesting events on the global golf calendar and a real treat for spectators both at the course and for viewers at home. It is not every day you get the opportunity to witness the likes of Jack Nicklaus, Gary Player and Tom Watson tee it up and the tournament is made even more special by the fact they get to do it with their families."
To qualify for the PNC Father Son Challenge, players must have won a major championship or The Players Championship. Their partner must not hold a PGA TOUR card.
The PNC Financial Services Group, Inc. has been the title sponsor of the tournament since 2012.