LANGER LOOKING TO MAKE HISTORY AT PNC FATHER/SON CHALLENGE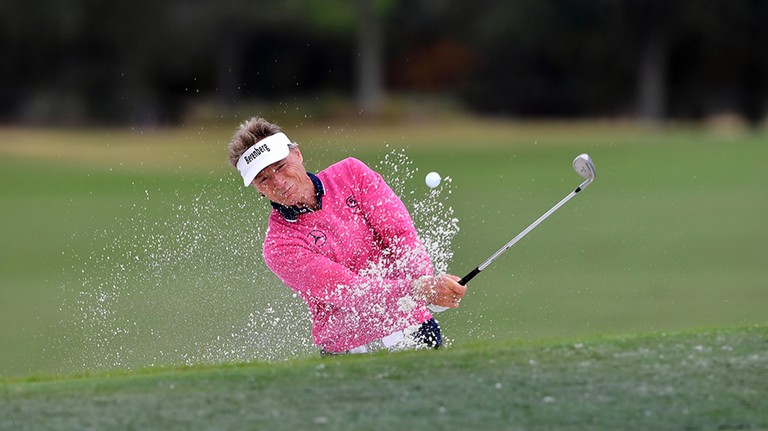 ORLANDO, FLORIDA – Thursday, December 13, 2018 – Three-time former champion Bernhard Langer returns to The Ritz-Carlton Golf Club, Orlando for his 14th straight appearance at the PNC Father/Son Challenge with a new partner in tow.
Langer, a father of four, will tee it up alongside his eldest child, Jackie Langer John, when the tournament begins on Saturday. He is seeking to become the first competitor in PNC Father/Son Challenge history to win the event with three different children.
In his thirteen previous appearances Langer has played with his three other children but never before with Jackie. He won the event twice with son, Stefan, in 2005 and 2006, and once with Jason in 2014.
Speaking about why he keeps coming back to the event, Langer said, "I have always said I love this tournament, I love the idea of playing with your kids and being around other families, around other legends." 
He continued, "I didn't play much team golf growing up so I love the idea of team golf, especially with your kids".
Paired with the two-time Masters champion for her first appearance, Jackie, confessed there was no hard feelings between siblings that she had the opportunity to play in the prestigious event, having taken the week off from her real-estate business.
"They are excited for me. I don't think they thought that I would want to play, it's too bad that none of them could make it caddie but it's going to be a lot of fun."
Lining up against a field including more than 800 victories worldwide, 56 major championships and 11 World Golf Hall of Fame members, the pair took to the course today in the Pro-AM and continued to finalize their pre-tournament preparations ahead of the first round on Saturday, December 15 where they are paired with Lee and Connor Janzen at 10.00AM.
Jackie might not have the golfing CV of her siblings but Bernhard was confident of what Jackie could bring to the partnership, commenting,
"Jackie has a great personality, a wonderful smile and a great attitude. She loves to talk and interact with people and she'll keep us loose on the course".
Elsewhere in the tournament field, Greg Norman and Greg Norman, Jr. return to the PNC Father/Son Challenge for the fifth time following a tie for 12th in 2017.
Norman, Jr., who operates Shark Wake Parks in South Carolina and Florida, looks forward to reuniting with his friends on tour this week.
"I grew up with most of these kids," he said. "They are all my friends. We chased these guys around the golf course, around the world. All these guys, love to play with them."
The elder Norman admitted no longer plays an active, competitive schedule, but picked up his clubs in late November to begin preparing for the PNC Father/Son Challenge.
"I started practicing about three weeks ago," he said. "Last year, I came in without any practice. Figured I might knock a little rust off this year and I feel a little bit better to be honest. Hopefully we'll take that into the weekend feeling the same way."
The due get their tournament under on Saturday at 10:36, partnered with six-time Major champions, Nick Faldo and son, Matthew.
Tickets are now on sale, priced at $15 per day or $45 for a full tournament pass (four days), by visiting pncfathersonchallenge.com. Active military and children age 15 years and younger receive complimentary admission with an accompanying adult.
NBC/Golf Channel will provide coverage of the PNC Father/Son Challenge. Dan Hicks will handle play-by-play duties alongside Peter Jacobsen in the booth. David Feherty, 2017 Father/Son participant Justin Leonhard, Notah Begay, Jim "Bones" Mackay and Steve Sands will round out the coverage team.