NICKLAUS AND PLAYER ROLL BACK THE YEARS AT PNC FATHER SON CHALLENGE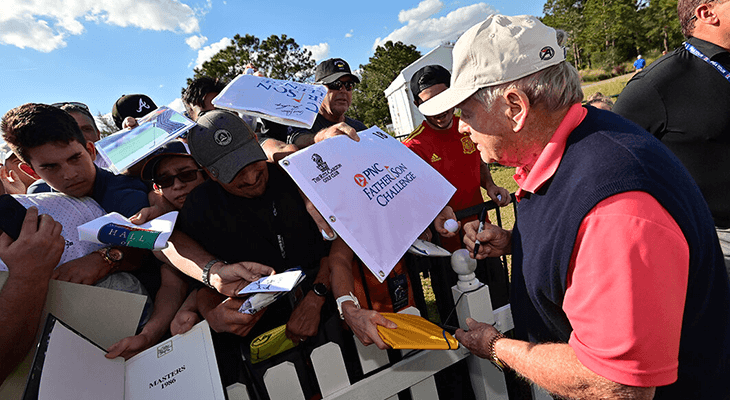 ORLANDO, FLORIDA, Dec. 6, 2019 – With a record 18 major championship titles to his credit, Jack Nicklaus returns to the PNC Father Son Challenge paired with longstanding friend and rival, Gary Player at The Ritz-Carlton Golf Club Orlando, Grande Lakes. Round one gets underway Saturday at 9.00 a.m.
Nicklaus, who returns with his 17-year-old grandson, GT, for the third consecutive year after a successful showing in 2018, might hold the most major trophies in the field, but with 19 other major champions competing for the Willie Park Trophy, he'll have his work cut out to recreate his 1999 winning performance.
Commenting on his current form, Nicklaus said,
"I worked on my game the last month to try and get it in some semi-decent shape, but if you look at the field this year, it is really strong. There is a good mix with a few younger professionals and some of the kids play really well."
"Gary and I have played a lot of golf together over the years. He still plays very well, and he plays a lot better than I do. GT is going to have to carry me."
Also looking to lean on the talents of his grandson, nine-time major winner Gary Player returns for the first time since 2002 with a strong family contingent, including his son on his bag. With six children and 22 grandchildren vying for a place on the team, James Throssell begged his grandfather for a spot, securing a place in cunning fashion.
"It's entirely my grandson's fault that we are here," Player said. "I am pleased about it though. He begged me to play. He said, I'll even pay for my airfare, I said, alright we'll go. As soon as I agreed, he said, no Gramps, you've got to pay. So, here we are."
A three handicap, James built his game around Gary's and even took time out of his work schedule in 2017 to hit balls at Gary's farm for two months. It was a routine that brought them closer together and is set to stand them in good stead this weekend.
Nicklaus was quick to praise the same family bond that was born out of a shared passion for the game.
"Anytime you spend time with one of your kids or grandkids, you develop a bond and there wouldn't be a golf tournament here if it wasn't for the bond that is created between families through golf."
Off the course, GT has not only been honing his game since last year, but he's built his own music recording studio and even started recording his original songs, with a country sound.
When asked about his favorite music style, Jack replied,
"I listen to his. I haven't heard it all yet but I will sing along if I can. He sang one the other day called 'Just be me', which I loved."
But, if the two have their way this weekend at the PNC Father Son Challenge, it might be all about them.