Six Past Champions to play 2023 PNC Championship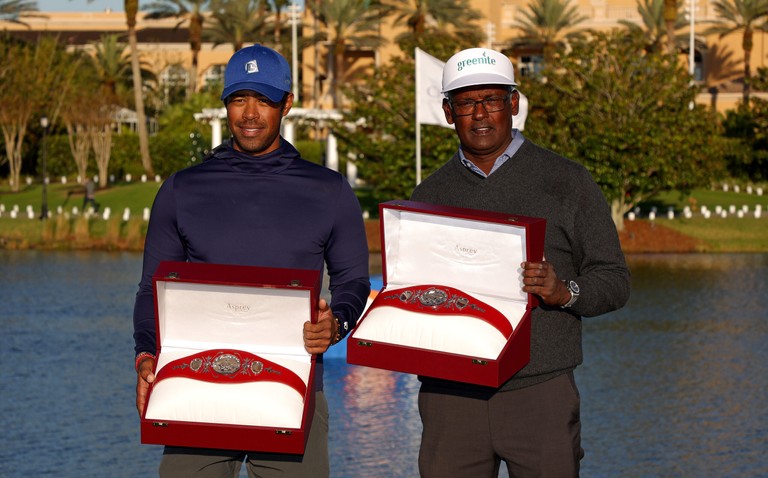 Defending champions Vijay and Qass Singh have confirmed their entry along with past champions, John Daly (2021), Justin Thomas (2020), David Duval (2016), Stewart Cink (2013) and Bernhard Langer (2005, 2006, 2014, 2019) for the 2023 PNC Championship at the Ritz-Carlton Golf Club Orlando, Grande Lakes, Dec.14-17.
Daly will play with John Daly II, Thomas will play with his father Mike, Duval and Cink will team up with their sons, Brady and Reagan, while Langer will play with son Jason, with whom he has won two PNC Championship titles.
Singh explained, "I can't tell you what it meant to win last year with Qass after 16 attempts. This tournament is so special to us, and it is such an important week for our family every year. We love everything about the tournament, from playing amongst so many legends of the game, to getting to know their kids, to just spending quality time with my son as we enjoy this unique inside the ropes experience together. I have played in so many tournaments all around the world over the years, but it genuinely is hard to think of a week that I look forward to and enjoy more than the PNC Championship!"
Thomas, a two-time US PGA Champion, commented, "Sharing the PNC Championship experience with my dad and family is the perfect way to finish my year on a high note. My dad has been such an important part of all aspects of my golf journey – he introduced me to golf, he's coached me and mentored me throughout my career and now, I feel so lucky that we now have this unique opportunity to compete together as teammates alongside so many golfing icons each year. This will be our fourth PNC Championship playing together and we look forward to many more!"
This is the 12th year PNC Bank has been the tournament's title sponsor. The event was renamed the PNC Championship in 2020, reflecting the world class talent at this inclusive family tournament that showcases the special bonds that the love of golf creates.
The tournament, which will be broadcast live across NBC, GOLF Channel and Peacock, attracts major champions whose victories this year span 1959 to the present day. Last year, the PNC Championship gathered a field of golfing greats that had won 73 major titles. With only 20 teams competing, players past and present have shown unprecedented interest in campaigning for a spot in the star-studded line-up.
The PNC Championship has continued to evolve and develop since the inaugural tournament in 1995, when 10 major winners gathered with their sons. The tournament now features 20 major champions and their relatives competing in a two-day, 36-hole scramble for the Willie Park Trophy.
To qualify for the PNC Championship, players must have won a major championship or The Players Championship. Their partner must not hold any playing status on a professional Tour.
The PNC Championship is operated in partnership by IMG and NBC Sports.
Tickets are now on sale for the 2023 Championship. For more information and to purchase tickets, please visit pncchampionship.com.
Follow us:
Twitter: @PNCChampionship
Instagram: @PNCChampionship
Facebook: https://www.facebook.com/pncchampionship
Past Champions of the PNC Championship
1995 – Raymond Floyd and Raymond Floyd Jr.
1996 – Raymond Floyd and Raymond Floyd Jr.
1997 – Raymond Floyd and Raymond Floyd Jr.
1998 – Bob Charles and David Charles
1999 – Jack Nicklaus and Gary Nicklaus
2000 – Raymond Floyd and Robert Floyd
2001 – Raymond Floyd and Robert Floyd
2002 – Craig Stadler and Kevin Stadler
2003 – Hale Irwin and Steve Irwin
2004 – Larry Nelson and Drew Nelson
2005 – Bernhard Langer and Stefan Langer
2006 – Bernhard Langer and Stefan Langer
2007 – Larry Nelson and Josh Nelson
2008 – Larry Nelson and Drew Nelson
2012 – Davis Love III and Davis "Dru" Love IV
2013 – Stewart Cink and Connor Cink
2014 – Bernhard Langer and Jason Langer
2015 – Lanny Wadkins and Tucker Wadkins
2016 – David Duval and Nick Karavites
2017 – Angel Cabrera and Angel Cabrera, Jr.
2018 – Davis Love III and Davis "Dru" Love IV
2019 – Bernhard Langer and Jason Langer
2020 – Justin Thomas and Mike Thomas
2021 – John Daly and John Daly II
2022 – Vijay Singh and Qass Singh
About PNC Bank 
PNC Bank, National Association, is a member of The PNC Financial Services Group, Inc. (NYSE: PNC). PNC is one of the largest diversified financial services institutions in the United States, organized around its customers and communities for strong relationships and local delivery of retail and business banking including a full range of lending products; specialized services for corporations and government entities, including corporate banking, real estate finance and asset-based lending; wealth management and asset management. For information about PNC, visit www.pnc.com.
About NBC Sports
NBC Sports connects people to the moments that matter most and serves sports fans 24/7 with premier live events, insightful studio shows, and compelling original programming. As the sports division of NBCUniversal, NBC Sports presents premier content across linear platforms NBC, USA Network, Golf Channel, as well numerous digital sites, including Peacock. NBC Sports possesses an unparalleled collection of media rights agreements, partnering with some of the most prestigious sports properties in the world: the International Olympic Committee and United States Olympic and Paralympic Committee, the NFL, Big Ten Conference, NASCAR, INDYCAR, PGA TOUR, Notre Dame, The R&A, PGA of America, USGA, Churchill Downs, Premier League, MLB, Tour de France, Roland-Garros, and many more. It also consists of NBC Sports Next, a subdivision of NBC Sports and home to all NBCUniversal digital applications in sports and technology within its three groups: Youth & Recreational Sports, Golf, and Betting & Gaming.
About Grande Lakes Orlando
Hidden in the heart of Orlando, Grande Lakes Orlando sits on 500 lush acres at the headwaters of the Florida Everglades. The resort features a 582-room Ritz-Carlton, 1,010-room JW Marriott hotel, the 40,000-square-foot Ritz-Carlton spa as well as three picture-perfect pools including a lazy river and waterpark with three slides. The Ritz-Carlton Golf & Tennis Club, which hosts the PNC Championship, includes an 18-hole Greg Norman-designed championship golf course. A dozen celebrated dining venues throughout include Knife & Spoon, one MICHELIN star steak and seafood restaurant led by award-winning chef John Tesar, and Primo, MICHELIN recommended Mediterranean/Italian fare by multiple James Beard award-winning chef Melissa Kelly, a leader in the farm-to-fork movement. Grande Lakes Orlando restaurants source fresh ingredients from Whisper Creek Farm, an on-property 18,000-square-foot working farm, as well as on-site apiaries. The resort features a wide array of additional activities: kayaking, eco-tours on Shingle Creek, falconry, mountain biking and fishing school. Conference and meeting attendees have their pick of meeting space options located across 150,000 square feet plus more than 100,000 square feet of outdoor space. Grande Lakes is located 15 minutes from the Orlando International Airport, five minutes from the Orange County Convention Center and minutes from the major theme parks.
Follow Grande Lakes Orlando @grandelakesorlando on Instagram and grandelakesorlando on Facebook. Also, The Ritz-Carlton and JW Marriott on Twitter @RC_Orlando and @JW_Orlando, Instagram @ritzcarltonorlando and @jwmorlando and Facebook ritzcarltonorlando and jwmarriottorlando
About IMG
IMG is a global sports and culture company. It is a leader in rights management, multi-channel content production and distribution, consultancy and fan engagement; owns, produces and commercially represents hundreds of live events and experiences; and manages licensing programs for the world's best-known brands and trademarks. IMG is a subsidiary of Endeavor, a global sports and entertainment company.