TEAM GOOSEN FLIES INTO HALFWAY LEAD AT PNC FATHER SON CHALLENGE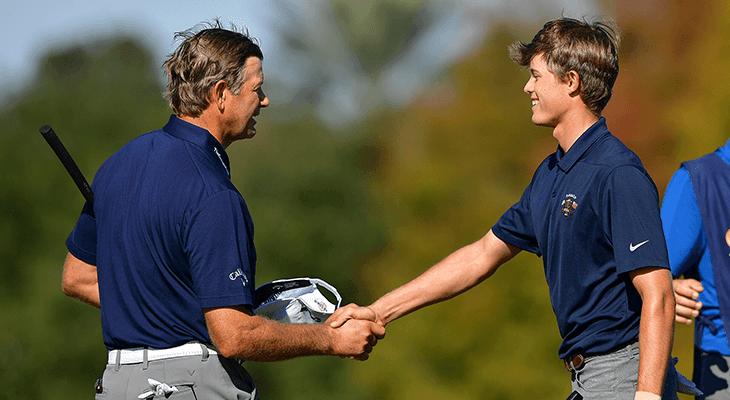 ORLANDO, FLORIDA, Dec. 7, 2019 – South-African and two-time U.S Open winner, Retief Goosen and his 16-year-old son, Leo, fired an opening round of 58 (-14) to set up a two-shot lead over Team Langer and Team Duval at the halfway stage of the 22nd PNC Father Son Challenge at The Ritz-Carlton Golf Club Orlando, Grande Lakes.
One of the pre-tournament favorites, the recently inducted Hall of Famer finished runner-up in 2016 and 2018 with Leo, and started this year's campaign with serious intent, reeling off five birdies in the first six holes.
The back nine proved to be a similar feast for the dynamic duo, recording a sensational eight straight birdies to finish out the bogey-free round with just four pars.
Quick to highlight his son's prowess on the greens, which saw him sink up to 100 feet of putts, Retief said, "Last night, he said he would put a new putter in the bag and he made everything."
He added, "Hopefully he will hang on to this one for more than a week."
Whether Leo heeds his father's advice or not is yet to be seen, but one thing that is for sure, the putter will be the first club in the bag tomorrow in the final group off at 9.48 a.m. paired with Team Langer.
On only two occasions since 2004 has the first-round leader failed to win, but lurking ominously in second place is three-time Father Son Challenge champion Bernhard Langer, who posted what is fast-becoming a routine round of 60 (-12) with his son, Jason. Joining them at T2 is another successful team from the past, David and Brady Duval.
Brady made his debut last year at the age of 13, but caddied for his father during his victory with stepson Nick Karavites in 2016.
David said, "The opportunity that PNC presents to major winners to come and be with your family and take part in this is second to none. I've seen the ups and downs and I've certainly had my issues at times on the golf course but the comfort amongst family and celebrating with this boy this year and the others in the previous years is simply the best."
Annika Sorenstam, who became the first female professional to compete in the tournament, sits T17 after an opening 66 (-6), which included a closing birdie.
Playing with her father, the 10-time major champion said, "The first tee will stay in my memory. I was nervous for about three holes. I'm so proud of my dad. He stepped up when he needed to and our goal was 6-under, so we should be pleased with that."
The PNC Financial Services Group, Inc. has been the title sponsor of the tournament since 2012.
Tickets are still available, priced at $15 per day or $45 for a full tournament pass (four days). Visit pncfathersonchallenge.com
Active military and children age 15 years and younger receive complimentary admission with an accompanying adult.