TEAM LOVE MAKE HISTORY AT 2018 PNC FATHER/SON CHALLENGE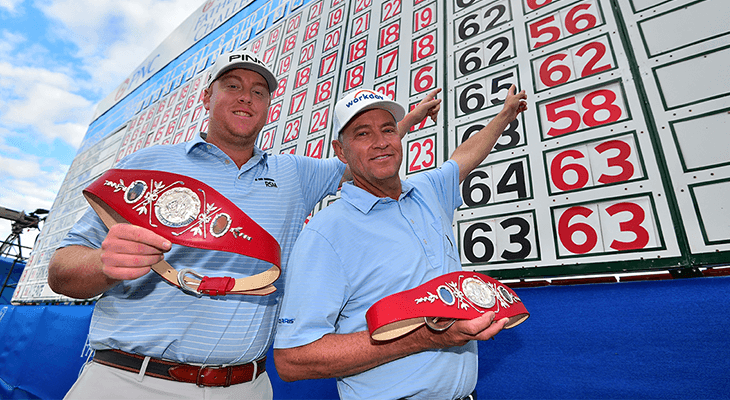 ORLANDO, FLORIDA – Sunday, December 16, 2018 – Davis Love III and son, Dru Love, shot a record-breaking final round 56 (-16) on Sunday, to seal a three-shot victory over Team Goosen, Team Cink and Team Daly and claim their second tournament victory at the 2018 PNC Father/Son Challenge with a championship record 118 (-26) total.
On a low scoring morning, which saw no less than three teams hit to the top of the leaderboard on the front nine, Team Love, who were earmarked as pre-tournament favourites, quickly stamped their authority on the tournament, firing 27 strokes on the front nine (-9).
Trading blows from the very beginning, Team Goosen, who were blazing a trail of their own (-7 thru six holes) and overnight leaders, Team Daly, who opened with six birdies in their first seven holes, to ensure a close race heading in to the back nine.
With nothing between them, it would take a moment of magic to break the deadlock, with Team Love making a decisive eagle on the 14th which included a Dru drive, Davis 3 wood and Dru putt, to get their noses in front.
It would be a lead they would not relinquish.
Further gains at nos. 15 and 17, before a closing birdie at 18 would see Team Love in to an unassailable position at the top of the leaderboard at 26 under par and ensure that Davis Love III, who is best known for his 1997 PGA Championship victory and Ryder Cup Captaincy, added another set of Willie Park belts, named for the first father and son duo to win the Open Championship, Willie Park Sr. and Jr, to his trophy cabinet.
Commenting on the win, the Hall of Famer said, "That feels great. We've come close several times, he's been very competitive this week, after a slow start yesterday it's nice to get it going and get another win."
He added, "I knew we needed at least 14 under to have a chance, I just said, let's try and hole every wedge shot and eagle every hole like we're behind."
Reiterating his Father's words, Dru, who recently finished 54th in the PGA Tour's RSM Classic at his home course said, "We love this tournament so much, it means the world to us, especially with our whole family here."
In a bittersweet moment regarding the tournament's qualifying criteria that states all partners of the invited professional must not hold any professional Tour status, Dru explained, "My dad said let's finish this one off because hopefully it's our last one, I'm hoping my sister can start practicing so I can come back and caddie for her."
Crashing the press conference to congratulate the partnership, 18-time major champion, Jack Nicklaus, who recorded his highest finish since 2013 added, "Get yourself on the PGA Tour, I don't want to see you again at this event."
Joint runners up, Team Goosen, who held the new tournament record low round at Orlando Golf Club for a matter of minutes with their 58 (-14), were graceful in defeat adding, "We left a few shots out there, we probably could have been a couple better but the Loves here behind us are playing really good so for the next 10 minutes we hold the course record but I think it is going to be broken soon."
Finishing up in T9 alongside one of two Son/Father partnerships, Team Kuchar, expressed their delight at their debut, Matt Kuchar said, "It was so much fun to be out playing. We had great pairings playing with the Furyk's, playing the Kite's. The night time activities were fantastic having the social affairs, hanging out with legends of the game, the guys that we both looked up to and admired and peers that I still look up to and admire. It's such a great event because everybody loves that extra family time."
As part of the collective input from the PNC Father/Son Challenge and PNC's commitment to the community, the Regional President of PNC Bank, Chad Lour, presented John Bozard, President of The Orlando Health Foundation with a US$250,000 donation to the capital campaign to aid the Florida state level one Trauma Clinic and foundation's capital campaign.
The PNC Father/Son Challenge is operated in partnership by IMG and NBC Sports.