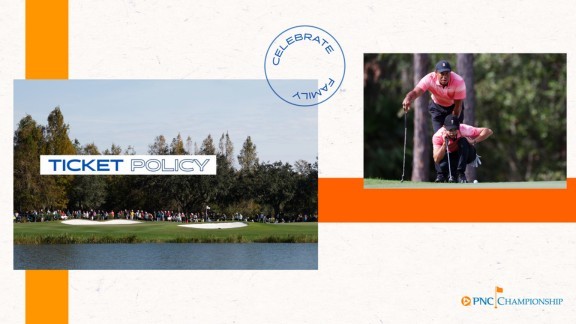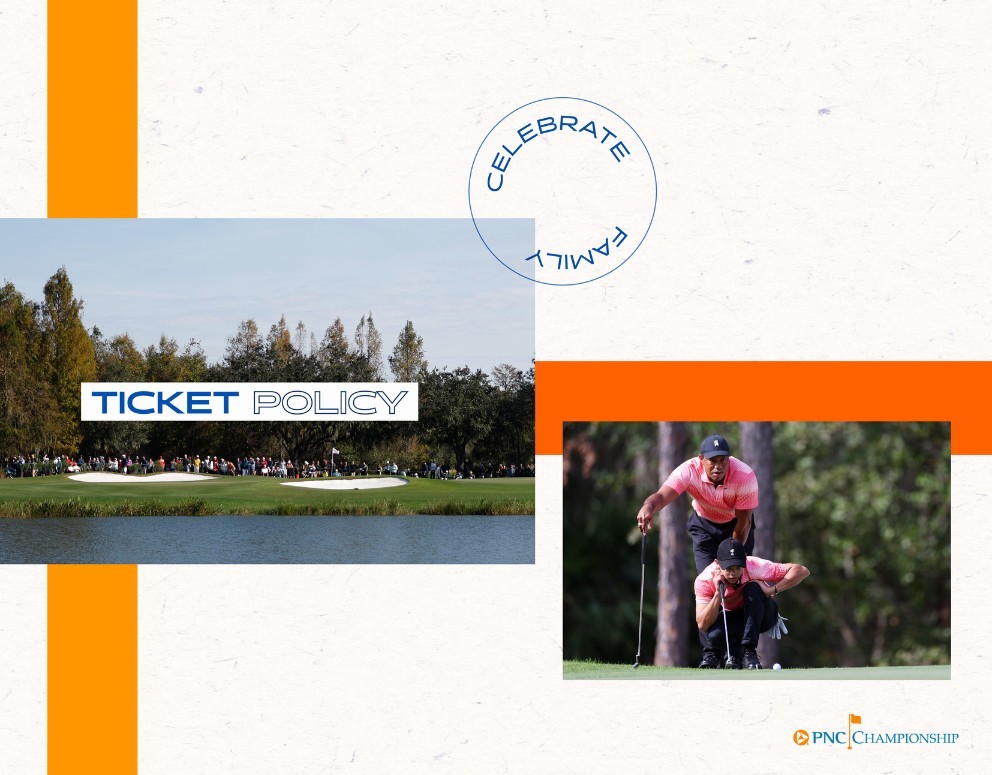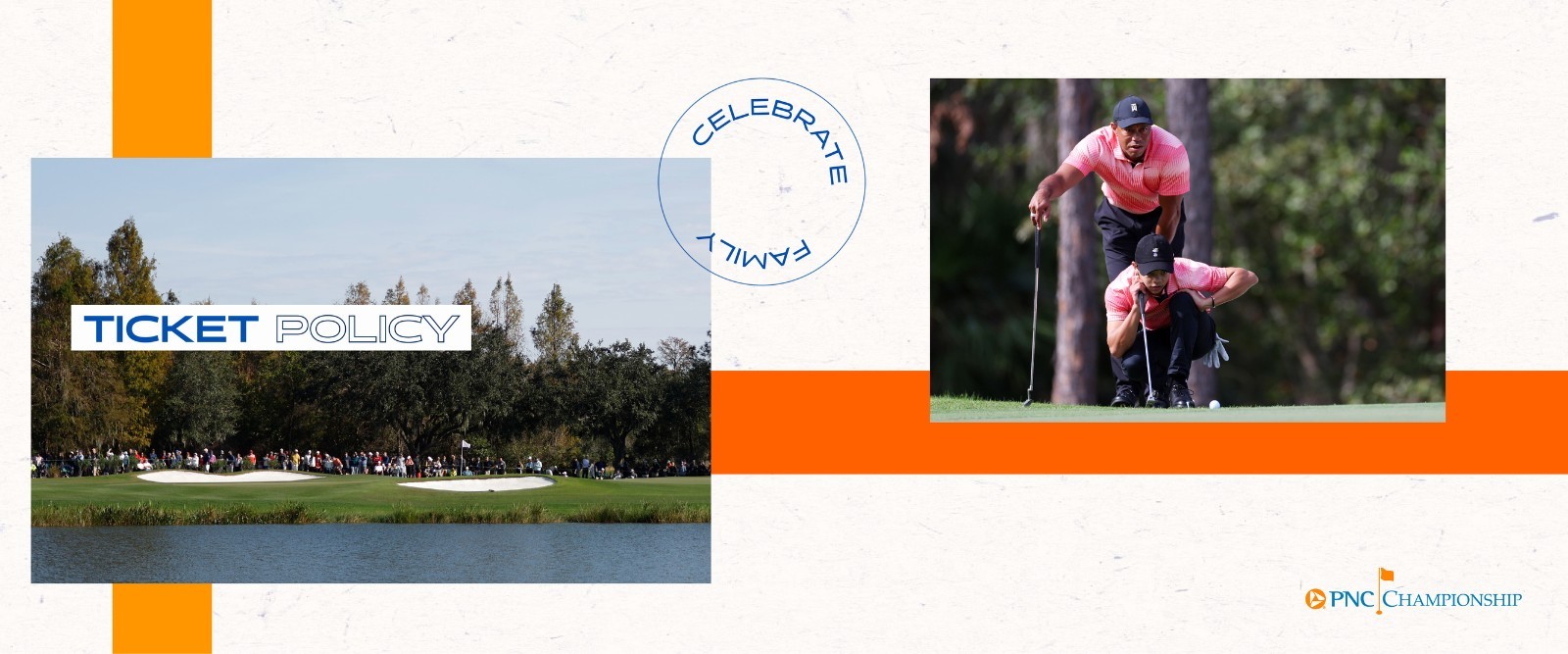 PNC CHAMPIONSHIP TICKET POLICY
SAFEGUARD YOUR TICKETS | NO RE-ENTRY | NO RAINCHECK PRIVILEGES | NO REFUNDS OR EXCHANGES | TOURNAMENT DATE AND TIME SUBJECT TO CHANGE | ALL RIGHTS RESERVED
PLEASE READ THE FOLLOWING TERMS CAREFULLY AS THEY GOVERN YOUR RIGHTS UNDER THE TICKET AND CONTAIN A BINDING, INDIVIDUAL ARBITRATION AND CLASS-ACTION WAIVER PROVISION BY WHICH YOU GIVE UP THE RIGHT TO FILE A LAWSUIT IN COURT INDIVIDUALLY OR AS PART FO A CLASS ACTION WITH RESPECT TO ANY DISPUTES RELATING TO THE TICKET OR THE TOURNAMENT OR EVENT FOR WHICH IT IS ISSUED.
By purchasing a ticket to the PNC Championship, a PGA Tour sanctioned tournament (the "Tournament"), you agree to comply with these Terms and Conditions and the Website Terms of Use.
A valid ticket is required for entry to the Tournament and you will not be allowed entry to the Tournament without one. Tickets are valid only for this specific Tournament and only for the day(s) and time(s) specified on the ticket. Each ticket is a revocable license allowing access to the Tournament. Tickets are non-refundable, except as otherwise stated herein. Lost, stolen or damaged tickets are not the responsibility of PGA TOUR, Inc. ("TOUR") or the Tournament and will not be replaced. It is your responsibility to check your ticket, as mistakes cannot always be rectified.  By purchasing a ticket, you acknowledge and accept that all details provided to the ticket issuer are correct and, if applicable, consent to the ticket issuer providing e-tickets immediately following processing of payment.
You acknowledge that COVID-19 is extremely contagious and that despite the measures the Tournament has implemented to help mitigate the risk of transmission, the elimination of risk of exposure and infection to COVID-19 is not currently possible.  By entering onto the grounds of the Tournament using this ticket, you acknowledge and agree, for yourself and on behalf of any accompanying minor (who shall also be deemed to be "you" for purposes of this policy), that various inherent risks and dangers exist, whether known or unknown, in connection with an event of the nature of the Tournament including, without limitation, risk of injury resulting from flying objects (including, without limitation, golf balls), the inherent risk of exposure to COVID-19 (and its variants), a contagious disease that can lead to severe illness and death, which exists in any public place where people are present, and various other risks and dangers which may occur prior to, during, or after the Tournament; and, in connection with such foregoing risks and dangers: YOU ASSUME ALL RISK AND DANGER ARISING OUT OF YOUR ATTENDANCE INCLUDING LOSS OF YOUR PERSONAL PROPERTY, INJURY, OR DEATH FROM A GOLF SHOT, OR BY OTHER SPECTATORS OR PLAYERS, OR WHICH MAY RESULT FROM EXPOSURE TO/CONTRACTION OF ILLNESS(ES) (INCLUDING, WITHOUT LIMITATION, COVID-19 AND ITS VARIANTS) AND/OR RELATED HARMS, AND YOU HEREBY RELEASE TOUR, IMG WORLDWIDE, LLC ("HOST ORGANIZATION"), RITZ-CARLTON GOLF CLUB, ORLANDO, FL ("HOST SITE"), TELEVISION BROADCASTERS, SPONSORS, VENDORS AND THEIR RESPECTIVE AFFILIATES, EMPLOYEES AND AGENTS, AND ALL VOLUNTEERS, PARTICIPATING PLAYERS AND CADDIES, FROM ANY AND ALL LIABILITIES ARISING OUT OF SUCH LOSSES, INJURIES OR DEATH.
You authorize TOUR and its affiliates and licensees to use your image, likeness, voice, actions and statements (and that of any minor you accompany) captured or made at the Tournament in any live or recorded telecast, transmission, reproduction, recording or photograph of the Tournament in any and all media now known or hereafter developed (in whole or in part) and for advertising, marketing, promotional, analytics and internal purposes, without payment of any compensation to you. You may only capture any account, description, video, audio, photographs, scoring-related data or statistic ("Content") of, from or at the Tournament on any day of the Tournament throughout the Tournament grounds (including, for clarity, competition areas on competition days), consistent with all posted rules and instructions of TOUR and/or Tournament staff. Notwithstanding the foregoing, you may not capture, transmit, distribute, or otherwise use Content for any purpose other than personal, non-commercial purposes (e.g., for your personal social media accounts), and you may not distribute such Content on a live or near-live basis (no live streaming) or use such Content to create a real-time, stoke-by-stroke or hole-by-hole account of the Tournament. Further, you shall not use or authorize others to use any such Content for any commercial or promotional purpose, or for or in connection with a media outlet (directly or indirectly) unless you and the media outlet have received an official media credential for the Tournament from TOUR.  You shall not collect, transmit, distribute, publish or sell Content (including any scoring, statistical, competition or other data at or from the Tournament) for purposes of any betting or gambling-related activity.  TOUR is the sole owner of, and you hereby assign to TOUR, all right, title and interest in and to all Content, including all copyrights and rights to use all Content (including rights to use your social media posts incorporating the Content), subject to your permission from TOUR to capture and distribute certain Content on the limited terms set forth in this ticket. Upon reasonable request by TOUR, at TOUR's cost and expense, you will sign any documents necessary to effect TOUR's ownership and use of all Content.
You shall not engage in any activity at the Tournament that creates a commercial association between you and/or a third party and TOUR or the Tournament, including without limitation, using, wearing, distributing or selling any promotional or commercial item at the Tournament or promoting or drawing attention to any business, cause or concern at the Tournament, in each case without permission from TOUR.
 For the safety of all Tournament attendees, TOUR reserves the right to refuse admission to any ticket holder and may on occasion conduct security inspections to ensure the safety of Tournament attendees. For security purposes, You consent to the reasonable inspection of your person and property before entering the Tournament, which may include metal detection, and you waive all claims against TOUR arising out of such inspection.
No standalone photo or video cameras (outside of mobile devices) on competition days (allowed practice days only), coolers, ladders, signs, weapons, firearms, explosive devices, etc. will be permitted onto the Tournament grounds.
Mobile devices are permitted to the extent they are on silent and used in accordance with this ticket and the Mobile Device Policy posted on Tournament grounds and at pgatour.com.
No alcoholic beverages may be brought onto or taken from the Tournament grounds.
Any misconduct, illegal activity, intoxication, use of illegal substance, breaches of etiquette, disruptive behavior, heckling, or violation of any rule or instruction of Tournament representatives or violation of this ticket is prohibited and shall be grounds for forfeiture of your ticket and for your removal from the grounds.
Breach of any of these terms, failure to comply with safety requirements, rules or policies of TOUR, Host Organization, or Host Site, shall automatically terminate any rights that you may have hereunder; shall render illegal and unauthorized your use of the ticket for any purpose; and shall authorize TOUR, Host Organization and/or Host Site to withdraw the ticket, refuse admission to the Tournament, or eject you from the Tournament, without refund or credit in each case, and subject you to all legal remedies available to the TOUR, Host Organization and/or Host Site.
You shall not seek autographs of players in order to sell such autographs, and you shall not pay another person to obtain an autograph for you.
Tickets cannot be resold or otherwise used in a promotion, offered as a prize or reward in a sweepstakes, contest, giveaways, raffles,  used in a travel or hospitality package (e.g., combining tickets with flights and/or accommodations), or otherwise without permission from TOUR.
It is unlawful to reproduce tickets. Host Organization and TOUR reserve the right to revoke any ticket and cancel all privileges connected therein. Use of any parking site provided for Tournament attendees is entirely at the risk of the vehicle driver and/or owner. Please take appropriate security precautions and lock your vehicle.
TOUR reserves the absolute right to alter or vary the Tournament, or any aspect thereof, in whole or in part, at any time for any reason, without obligation to provide a refund or alternative right or benefit. If the Tournament is cancelled in its entirety prior to its commencement, then ticket holders who have purchased tickets directly from Host Organization or through https://www.pncchampionship.com/tickets/ may be entitled to a refund up to the face value of the ticket price, but no refund will be given with respect to any other expenditure or cost whatsoever (including, without limitation, processing fees).  Details of how to claim any refund, exchange, or future discount, if and as applicable, will be provided by TOUR on the day of the Tournament and/or on the Tournament website.
Further, if you have been issued credentials to access the Tournament by TOUR or the Tournament host organization and you are a Covered Person (as defined below), you are subject to the TOUR Integrity Program (the "Integrity Program"). A "Covered Person" means (i) each person affiliated with a TOUR player, including each caddie, family member, spouse, partner, agent, manager, instructor and trainer, (ii)each employee of the Tournament host organization, and (iii) each third party involved in the operation of the competition portion of the Tournament. The terms of the Integrity Program are set forth in the PGA TOUR Integrity Program Manual, which is available here. The Integrity Program, among other things: prohibits each Covered Person from betting on any aspect of the Tournament and providing inside information to third parties for betting on any aspect of the Tournament; and requires each Covered Person to report any violation of the Integrity Program to TOUR. A violation of the Integrity Program by a Covered Person may result in the revocation of his or her credentials to access the Tournament and other  TOUR events, among other consequences.
Should any current or future dispute, claim or cause of action related to this ticket/license or the Tournament arise between you and the TOUR, Host Organization, or Host Site you shall send a written notice describing the issue (a "Dispute Notice") to 3300 PGA BLVD, Suite 800, Palm Beach Gardens, FL 33410 ATTN: [PNC Championship]. You and TOUR, Host Organization, and/or Host Site agree to make a good-faith effort to resolve the dispute for at least 60 days (the "Negotiation Period") following receipt of the Dispute Notice.  If the parties cannot resolve the dispute within the Negotiation Period, the dispute shall be resolved by mandatory, confidential, final, and binding arbitration held before a neutral, single arbitrator in Orlando, FL, conducted by the Judicial Arbitration Mediation Services, Inc. ("JAMS") in accordance with the JAMS Comprehensive Arbitration Rules and Procedures effective December 1, 2022, subject to the U.S. Federal Arbitration Act and federal arbitration law.  Any and all issues relating or pertaining to arbitration or this arbitration clause, including but not limited to the threshold question of arbitrability or the enforceability or validity of this arbitration clause shall be delegated exclusively to the arbitrator selected pursuant to this provision.  Judgment upon the award rendered by the arbitrator may be entered in any court having jurisdiction. YOU, TOUR, HOST ORGANIZATION, AND HOST SITE AGREE THAT ALL DISPUTES SHALL BE ARBITRATED ON AN INDIVIDUAL BASIS AND WAIVE ANY RIGHT TO LITIGATE IN COURT OR ARBIRTRATE ANY CLAIM AS A CLASS ACTION, REPRESENTATIVE ACTION, OR CLASS ARBITRATION.  IF THE HOLDER DOES NOT CONSENT TO THIS CLAUSE, THE HOLDER MUST IMMEDIATELY LEAVE OR NOT ATTEND THE TOURNAMENT.
If any provision or part of these terms is held to be illegal, unenforceable or ineffective, such provision or part thereof shall be deemed modified to the least extent necessary to render such provision legal, enforceable and effective, or, if no such modification is possible, such provision or part thereof shall be deemed severable, such that all other provisions in and referenced in these terms remain valid and binding.